Gotham Steel Smokeless Grill

2 reviews
---
List Price:$79.99
Price:$59.94
You Save:$20.05 (25%)
Barbecue indoors without the smoke
Cooling drip pan so smoke can't form
Heated grill grate provides perfect even heat
Ti-Cerama surface with super strong titanium won't scratch
Product Description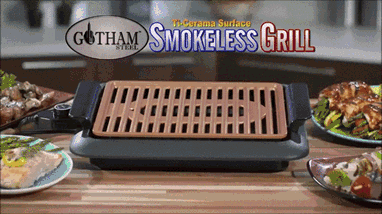 Gotham Steel Smokeless Grill is the ingenious new way to cook and BBQ indoors without all that smoke. It has a convenient temperature dial that maintains perfect heat across the entire surface for perfect grilling every time.
Plus, the Smokeless Grill features a heated grilling grate allowing oils and fats for healthier eating to drip into a pan that cools the oils and fat, so smoke can't form. So food like bacon stays crisp yet juicy. And with a lot less fat.
And like all Gotham Steel products it's made of Ti-Cerama surface which combines super strong titanium with super slick ceramic which means sticking or scratching is a thing of the past. Making healthy grilling and cleaning super easy and super fun!
So go ahead and BBQ hotdogs, hamburgers, chicken, salmon ribs and even desserts right in your kitchen, because you know it won't stick to the grill!
Customers who bought this also bought
Gotham Steel Smokeless Grill Reviews
Gotham Steel Smokeless Grill Reviews

by D.L. on 08/04/2019
Grill arrived about 1 week ago. I've prepared dinner with it every night since, It is everything promised and more! Definitely easy clean, no more fried foods for me, meats & chops taste so much better, no some or smells at all. I am extremely happy!!!!
18 people found this helpful. Was this review helpful?

by S.O. on 11/22/2019
This is so easy to use!. Easy to clean!. No mess oe fuss. I even placed cheese right to the grill and it still came off. Even my wife loves it. 100 % recommend!!
6 people found this helpful. Was this review helpful?
Rating Summary

59 total ratings
| | | |
| --- | --- | --- |
| 5 star | | 54% |
| 4 star | | 42% |
| 3 star | | - |
| 2 star | | - |
| 1 star | | 3% |
All ratings are from verified customer purchases.
Customers who viewed this item also viewed
Your Recently Viewed Items